SERVICES
Elcock Properties provides the most current, accurate and thorough information necessary for making smart investment decisions and maximizing financial returns. From determining your objectives to negotiating and completing a lease, purchase or sale, our broad expertise helps you achieve your business and commercial real estate goals. Elcock Properties is a full service real estate organization dedicated to a long-standing tradition of excellence, professionalism and integrity.
Elcock Properties is in close communications with commercial specialists throughout the United States and internationally. Through Elcock Properties, you benefit from those affiliations.
Whether you are a small business, Fortune 500 corporation, church or other religious organization, non-profit organization or individual investor - we can help you.
To serve all your commercial needs, we offer the following acquisition, management and leasing services.
1031 Exchanges
Asset Dispositions
Commercial Investment Property
Industrial
Land Development
Business Sale
Office Space Sale and Leasing
Medical Space Sale and Leasing
Retail Space Sale and Leasing
Property Management
Site and Land Acquisition
Whether your interests are in office, retail, industrial or multi-family residential real estate, Elcock Properties can represent you or your company in the following activities.
Buyer Representation
Seller Representation
Leasing (Both Tenant and Landlord Representation)
Site Selection and Acquisition
Commercial Property Management and Leasing Activities
Market Analyses
Appraisal
Financing
Project Management
Let Elcock Properties provide you with a "value added" solution to your needs. The concept of added value focuses on the fact that a knowledgeable and competent real estate professional can actually enhance the value of a property to a client, beyond the cost of any fees paid to the provider of the services.
The value enhancements can emanate from cost savings in property purchases and leases through aggressive buyer or tenant representation, professional consulting prior to disposition activities and responsive seller representation, aggressive and innovative marketing techniques, operational cost savings through proactive property management, tax savings resulting from ad valorem tax appeals, assistance with 1031 exchanges, and other methods. We pride ourselves in being able to adapt to each individual client's needs.

Copyright © 2009-2016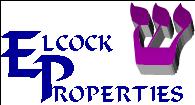 All rights reserved by Elcock Properties / Terms