OUR COMPANY
Welcome to Elcock Properties, a full service Commercial Real Estate firm established in 1988. We are dedicated to providing our clients high quality, professional real estate service necessary for a successful real estate experience.
The success of Elcock Properties lies in its striking versatility and ability to convert industry knowledge into tangible value for each client. Our wide range of services and affiliations are designed to add value to each individual real estate experience – commercial or residential. Elcock Properties market knowledge, integrity and professionalism are key to servicing clients in every market size with clients ranging from individuals to small businesses to established corporations.
OUR Business is YOUR Business!

Copyright © 2009-2016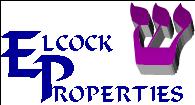 All rights reserved by Elcock Properties / Terms